Happy New Year! That means that it's time for a family letter.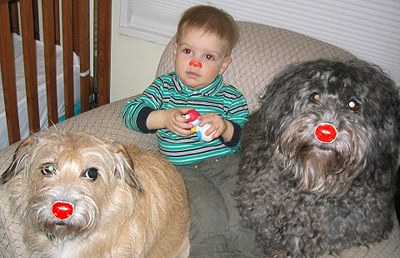 Here's a wrap-up of the 2004 news from the Rascop/Lewis household: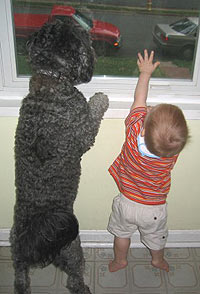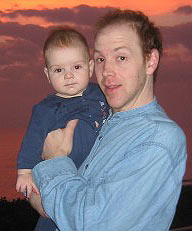 Henry: Henry celebrated many exciting firsts this year: first steps, first birthday and first words. From Lucy and Ethel's perspective, he went from being "The Noisy Puppy with the Interesting Smelling Backside" to "The One Who Drops Food."
He started the year sitting up, began crawling in March, and in July, took his first unsupported steps – much to the alarm of the dogs. He has become a very adept climber – much to the alarm of his parents. Our home has become an obstacle course of baby gates, appliance locks and toys.
Henry is now smarter than Lucy and Ethel. From watching them, he's learned to "sit" before he gets a treat and how eat from the dog dish. The dogs have learned the particular squawk that Henry makes when he sees a squirrel and go haywire trying to get to the window to see. He's also learned some sign language – "more" is his favorite, followed closely by "doggie," "sippy," "book" and "all gone."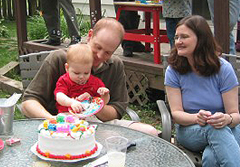 The Brood X 17 year cicadas were guests at Henry's birthday party, which was held in the back yard. The next time they'll be in town is for his graduation from high school. His first taste of cake was a big hit!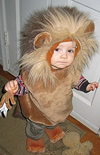 Henry enjoyed dressing up as a Lion for Halloween, although he couldn't quite figure out why he was being deposited on various doorsteps only to have strange objects dropped in his bag. It'll be different this year, for sure.
In addition to receiving visits by two Grandmas, Henry met all of his cousins this year, Katie and Gregory over Thanksgiving, and Megan and Christopher at Christmas. They were all delighted with each other.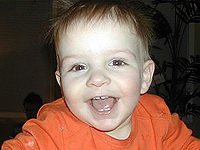 Jobs: Both Larry and Shari changed jobs this year. In July, Shari left NARAL to join the Henry J. Kaiser Family Foundation working on their website www.kff.org. Shari happily settled in, relieved to be working in an organization that wasn't going to be involved in the November elections. In October, Larry went into business for himself, after so many friends and neighbors asked him to work on their home projects. This gives him some more flexibility and time with Henry.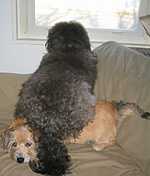 Our home and community: The vegetable garden exploded with tomatoes this year, making us the envy of the neighborhood. We attribute this to our compost heap, Larry's chickenwire garden fence and Ethel's fatwah on the squirrels. This fall, we couldn't figure out why we didn't have nearly as much compost as last year, until we noticed a rather healthy squirrel (whom we have named Orson) regularly sitting safely atop a fencepost near the compost bin feasting on vegetable scraps. Determined to do her job, Ethel now tries to intimidate Orson from the window by the fencepost.
Larry continues work on our 60 year-old home, with the added incentive of some great tax breaks now that Columbia Forest has been declared an Historic District.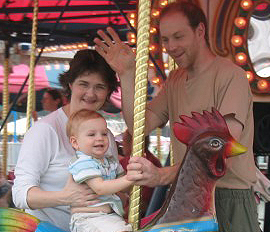 As we greet the New Year, we are also incredibly thankful for all that we have in the way of health, home, family, friends and livelihood. The Tsunami in particular has restored in us a sense of fortune and privilege, as well as sense of responsibility to those who aren't so fortunate and privileged. The election in November was an enormous disappointment to us, and we hope that the next four years will bring less damage to this country at home and abroad than the last four.
We encourage everyone to give of their time, money, or whatever they can to worthy causes or people that will suffer in the next few years as a result of the so-called "moral values" of a shrill minority.
That said, we hope that everyone has a safe, healthy, prosperous and joyous 2005!
Shari, Larry, Henry, Lucy and Ethel