Solstice Greetings!!
Well, it's been quite a year on 11th Rd! Blizzards, hurricanes… and the big news - Shari and Larry became ancestors!
The year started out snowy, with the blizzard on President's Day weekend. Larry helped to dig out the neighborhood, while Shari worked from home trying to get the new website up before her due date. Neighbors checked in on us and it was actually a lovely experience seeing everyone taking care of each other.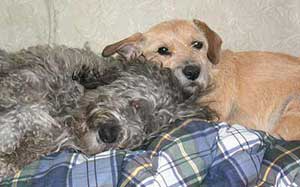 Lucy and Ethel kept us warm.
Ethel turned into Shari's shadow, following her wherever she went, even into the room with the dreaded bathtub.
Shari also trekked through the snow to Georgetown to the National Conservatory of Dramatic Arts to direct Romeo and Juliet for the 90 Minute Shakespeare Company. Shari adapted the script to 90 minutes and set the play in modern day Littleton, CO. Henry decided to weigh in on the project by kicking. He was very opinionated.
In the spring, Ethel resumed her fatwa on the neighborhood squirrels. This being Arlington, the squirrels organized and tried to get her zoned out of the city, citing "harassment and blockage of free and unfettered egress." Fortunately they lost. : )
Larry kept busy trying to get as many home projects done before June, declaring his own war on the bumper crop of dandelions. In April, our friends Kristin and Kerry had a baby shower for us. While we were registering, we were amazed at the sheer quantity of baby gear. Apparently, for every pound of baby, there is 10 pounds of required "stuff." One look at the wall of baby safety items convinced us our house was a deathtrap. Kudos to our parents who managed to keep us alive back in the days before toilet locks, cord covers, safety crib sheets, coffee table bumpers.
On June 9, Shari launched the website. On the morning of June 10, she checked into the hospital. At 3:45 on June 11, Henry Lee Rascop joined us and was greeted in the delivery room by Dad and Grandma Mel.
He was just perfect.
Grandma Mel, Grandma Carol and Aunt Mary stayed to help the first week, then life as a family of five began.
Life has changed in ways that we could never have imagined – and we have welcomed those changes with enthusiasm that we never could have imagined.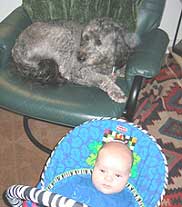 Ethel is ever vigilant, not letting Henry out of her sight.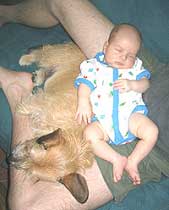 Lucy was a bit put out. After sulking for a few days after Henry's arrival, she decided to share her home and beloved daddy with the interloper.
Everybody gets along just fine now.
Two Grandmas and Aunt Angy came to visit later that Summer, and Hurricane Isabel left us without power for five days. Again, the neighborhood pulled together, having cookouts and getting to know everybody.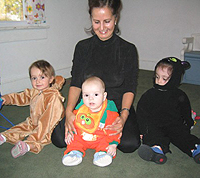 In September, Mama went back to work and Henry started staying at Miss Doris's during the day – along with his buddy Charlotte from down the street.
We also flew to Indiana to see all the relatives there. He looks a lot like Grandpa Terry.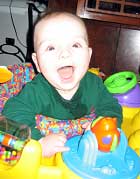 He is a goofy, friendly, BIG boy, always smiling and cackling. We wonder what he finds so amusing.
He loves everybody.

Enjoy your holiday season and may next year bring you happiness and joy!
Love,
Shari, Larry, Henry, Ethel and Lucy
Click here to see more family photos at Snapfish (free registration required)